Inleiding
De MDP2DPDVHD mini DisplayPort -naar-DisplayPort , DVI of HDMI multifunctionele adapter converteert een mini DisplayPort (mDP )-ingang in DisplayPort-, DVI- of HDMI-uitgangssignalen - alles in ťťn compacte adapter.
Deze multifunctionele adapter biedt de unieke mogelijkheid om bijna elk beeldscherm op uw PC of Mac met mini DisplayPort aan te sluiten. Dit is de perfecte oplossing voor zakelijke omgevingen met verschillende beeldschermen - u bespaart op de aanschaf van nieuwe compatibele beeldschermen. Deze veelzijdige mDP-adapter biedt een plug-and-play-oplossing waarvoor geen software of drivers nodig zijn, en is snel en eenvoudig te installeren voor optimaal gemak.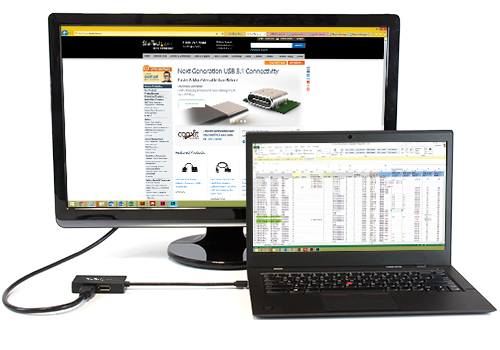 Compatibel met Intel ThunderboltT, wanneer de adapter via een ThunderboltT I/O-poort rechtstreeks op een ondersteunende DisplayPort wordt aangesloten.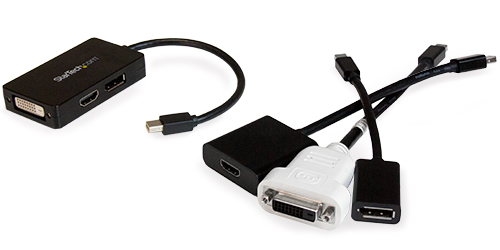 Indien de videobron dit toelaat, is deze adapter ook geschikt om audio door te laten. Raadpleeg de videobronhandleiding om na te gaan of deze ook audio ondersteunt.
Gedekt door een StarTech.com tweejarige garantie en gratis levenslange technische assistentie.
Benefits

De omzetting van mini-DisplayPort naar drie verschillende uitgangssignalen met behulp van een enkele adapter zorgt voor maximale flexibiliteit voor het aansluiten van vrijwel elk beeldscherm
Compacte uitvoering zorgt voor draagbaarheid en optimaal gebruik van werkruimte

Features

Zet mini-DisplayPort om naar DisplayPort, DVI of HDMI
Ondersteunt resoluties tot 2560x1600 via DisplayPort en 1920x1200 via HDMI/DVI
Geen software of drivers nodig
Compacte uitvoering
Compatibel met Intel ThunderboltT

Specification
Connector A: Mini-DisplayPort (20-polig)
Connector B: DisplayPort (20-polig)
DVI-D (25-polig)
HDMI (19-polig)
Kleur: Zwart
Type behuizing: Kunststof
Kabellengte: 150 mm [5.9 in]
Lengte product: 240 mm [9.4 in]
Breedte product: 45 mm [1.8 in]
Hoogte product: 15 mm [0.6 in]
Gewicht product: 45 g [1.6 oz]
Bedrijfstemperatuur: 0įC to 70įC (32įF to 158įF)
Opslagtemperatuur: -10įC to 80įC (14įF to 176įF)
Vochtigheid: 10% - 85% rel. luchtvochtigheid
Active or Passive Adapter: Passief
Convertertype: Travel A/V Adapters
Adapterstijl: Adapters
Audio: Ja
Uitgangssignaal: DisplayPort
DVI-D (DVI digitaal)
HDMI
Maximale digitale resoluties: DisplayPort: 2560x1600
Audiospecificaties: 5.1 Surround-geluid
Verzendgewicht (verpakt): 0.1 kg [0.1 lb]
Meegeleverd: miniDP-naar-DP/DVI/HDMI-adapter